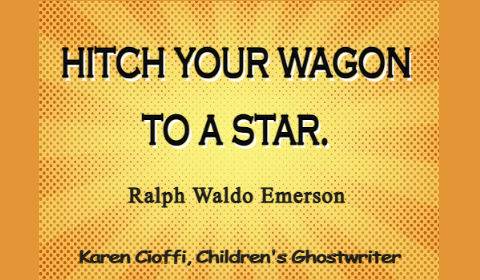 "Hitch your wagon to a star!"
~ Ralph Wald Emerson
When I looked this quote up, I was surprised to find that there are two different attitudes toward it or meanings for it.
The first reference is to set your goals high. Another adage for it is "shoot for the stars."
With this meaning, it's referring to setting high goals and strive toward them. Or, you might already have high goals, but the likelihood of reaching them are slim. Don't let that stop you. Go for it. Even if you're told it's not probable. Do your very best to become whatever it is you want to become.
This is the meaning I always thought of for this quote. And according to my research, this is what Ralph Waldo Emerson had in mind.
The second meaning is more modern and more cynical. It refers to attaching yourself to successful people, even famous people in order to reach your goals through them, through your association with them.
It figures the more modern meaning is cynical. Instead of being inspirational, it's negative: use others to your own advantage.
Which do you think it refers to?
Source:
https://idioms.thefreedictionary.com/Hitch+your+wagon+to+a+star
NEED HELP WITH YOUR STORY?
Whether you need help with children's ghostwriting, rewriting, or coaching, let me take a look at your children's story. Just send me an email at: kcioffiventrice@gmail.com. Please put "Children's Writing" in the Subject box. Or, give me a call at 347—834—6700.
Let's get your idea off the launch pad or your outline into a publishable and marketable story today!
Or, if you'd rather give it a shot and do-it-yourself, check out, HOW TO WRITE A CHILDREN'S FICTION BOOK.
MORE ON WRITING FOR CHILDREN
Get Your Self-Published Books Into Libraries – 6 Must Know Tips
Writing – Do Not Worry About Failures

LIKE THIS POST? PLEASE SHARE!