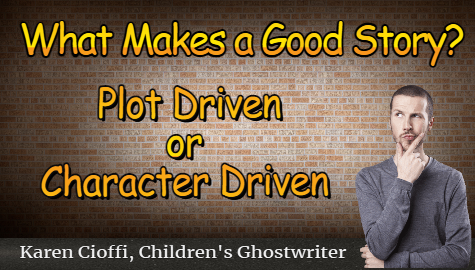 Stories can be plot driven or character driven, so which is the best formula to use when writing a story? Knowing a little about both methods should help in making a decision.
Plot Driven Story
A story's plot moves the story forward, from point A to point B. It doesn't necessarily have to be in a straight line; in fact a course that twists and turns is much better. This type of plot creates movement and interest. It's the twists and turns that will keep the forward momentum fresh, as well as creates anticipation. Anticipation will hold a reader's attention.
The plot also provides reasons and explanations for the occurrences in the story, as well as offers conflict and obstacles that the protagonist must overcome to hopefully create growth. These elements create a connection with the reader. It entices the reader to keep turning the pages. Without a plot it is difficult to create growth and movement for the protagonist. It might be comparable to looking at a still photo. It might be a beautiful photo and may even conjure up emotions in the viewer, but how long do you think it would hold a reader's attention?
Along with this, the plot molds the protagonist. It causes growth and movement in the character. Assume you have a timid woman who through circumstances, the plot, transforms into a brave, strong, forceful hero. Where would the story be without the events that lead this timid woman to move past herself and into a new existence?
Character Driven Story
On the other hand, a character driven story creates a bond between the protagonist and reader. It is the development and growth of the character, the character's personal journey, which motivates the reader to connect. There doesn't need to be twists and turns, or fire works. The reader becomes involved with the character and this is all the enticement the reader needs to keep reading.
In addition to this, the character works hand in hand with the plot to move the story forward. As the character begins her transformation the plot moves in the same direction.
In some instances, such as short stories, a character driven story can work amazingly well, such as in The Story of an Hour by Kate Chopin. In cases such as this, the connection developed between the character and the reader can be more than enough to satisfy the reader. But, all in all, it seems to be the combined efforts of a well plotted and character driven story that works the best.
The Best of Both Worlds
According to science fiction and fantasy writer, L.E. Modesitt, Jr., "The best fiction should be an intertwined blend of character, plot, setting, and style." I agree; all elements of a story working together create stories that will be remembered.
All the aspects of a story should complement each other, should move each other forward to a satisfying conclusion, and should draw the reader in. If you have an action packed plot driven story, but it lacks believable and sympathetic characters, you're story will be lacking. The same holds true if you have a believable and sympathetic character, but the story lacks movement, it will usually also fall short. As with all things in life balance is necessary, the same holds true when writing a story.
MORE ON WRITING FICTION
Submitting Your Manuscript – 8 Tips
Become an Author – 5 Basic Rules
Being a Writer – Learn the Craft of Writing
NEED HELP WITH YOUR CHILDREN'S MANUSCRIPT / STORY?
Let me take a look at it. I'm a working children's ghostwriter, rewriter, and coach. I can turn your story into a publishable book you'll be proud to be author of.
Send me an email at: kcioffiventrice@gmail.com (please put Children's Writing Help in the Subject line) or you can call me at 347—834—6700.
Or, if you'd rather give it a shot and do-it-yourself, check out my book, HOW TO WRITE A CHILDREN'S FICTION BOOK.
Like this article? Please share it!