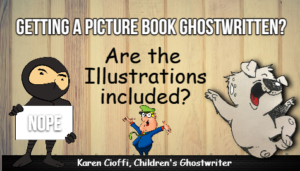 It seems lately, a lot of people who want to have a children's picture book ghostwritten for them aren't quite sure what they get for their money.
I'm often surprised when a potential client asks if the price quoted includes illustrations.
Another query I'm getting a number of lately is about writing and illustration packages.
I've decided to address both these issues in this article, so I'll be able to link to it when I'm queried.
1. What do you get when you hire a ghostwriter to write a children's book for you whether it be a picture book, chapter book, middle grade book, or young-adult book?
According to Oxford Dictionary, a ghostwriter is "a person whose job it is to write material for someone else who is the named author."
The keyword here is, 'write.'
A ghostwriter is a professional writer who will create a story, essay, speech, movie scrip, or other form of content. The ghostwriter usually remains anonymous. She's 'a ghost' and the client will be listed as the author of the book or other content.
Going back to the Oxford Dictionary, an illustrator is "a person who draws or creates pictures for magazines, books, advertising, etc."
It's the illustrator who creates the illustrations for the book, not the writer.
So, if you're thinking of hiring a ghostwriter for a picture book, the ghost will WRITE the story for you.
If you're self-publishing, you'll be responsible to research and hire an illustrator to create the illustrations for the story. Although, I offer my clients a list of illustrators.
If you're traditionally publishing, the publishing house that gives you a contract will have the illustrations created for you.
Thinking about it … I've decided the problem some have is the term "write a picture book."
When thinking of a 'picture book,' most people think of a finished product – a story and illustrations. I can see where the confusion comes into play. Hopefully, this article adds some clarity to the topic.
I've actually decided to add some information pertaining to this on my Ghostwriting Page on the site.
2. Do picture book ghostwriters offer story and illustration packages?
Not all ghostwriters offer packages.
But, since I'm asked about it more often now, I just started offering packages of story and illustrations.
These packages include front and back book covers and text layout. You'll be given a PDF of the complete story. This PDF can be given to any service that will format it into a print-ready file.
Services that do this include:
– IngramSpark
– Bookbaby
– The Book Designer
– Dog Ear Publishing
– Golden Box Books
– Word-2-Kindle
– You can also find freelancers to format your book
Once you have the print-ready file, you can upload it to sites like Smashwords, Amazon (for print), Amazon KDP, Createspace (for print) for publication and distribution.
Need help getting your print-ready file uploaded for publication, I can help you with that also.
If you are interested in this type of project, just let me know and we can discuss it.


Whether you need rewriting or ghostwriting, let me take a look at your story. Just send me an email at: kcioffiventrice@gmail.com. Please put "Children's Writing" in the Subject box.
Or, give me a call at 347—834—6700
Let's get your idea off the launch pad or your outline into a publishable story today!