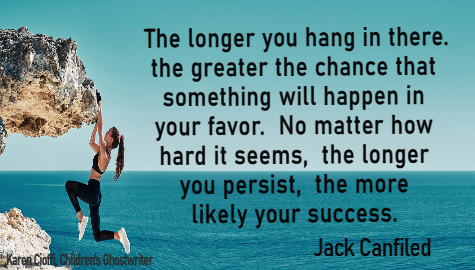 "The longer you hang in there,
the greater the chance that something
will happen in your favor.
No matter how hard it seems,
the longer you persist,
the more likely your success."
~ Jack Canfield
I originally posted this in February 2020 to let my readers know that I was taking a little break for a week or two … because of COVID-19. But with that in the past, I think the quote is a great reminder to persevere.
This means for life and for writing.
Career writers know that the writing business has it's ups and downs, like any other business. Hang in there.
It also goes for your writing in progress. Maybe you started a manuscript last year or two years ago and haven't seemed to find the time to get back into it… to finish it. Persevere. Don't give up on it. When you're able, get back to your story.
Be well and stay safe!
NEED HELP WITH YOUR CHILDREN'S STORY? SEND ME AN EMAIL OR GIVE ME A CALL.