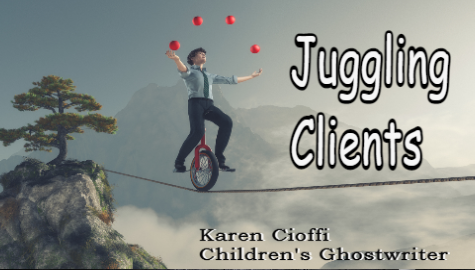 As a children's ghostwriter, I'm usually working on multiple children's book projects every day. This usually includes weekends.
I also have a family and work part time outside the home. So, my plate is
FULL.
This means I do a lot of juggling.
Working with multiple clients at one time, I currently have 7 clients, can be tricky.
The key to juggling clients is to be organized and focused … and to be flexible.
ORGANIZATION
As a former accountant, I'm very organized and meticulous.
When a client queries me, I immediately create a Word Client File and put it in a Potential Client folder.
Every email that's sent or phone conversations, along with my responses, goes in the file.
In addition, I also have a Potential Client spreadsheet. I put the date, the client's name and email address. I include what s/he's querying about and the amount I quoted. I also add other information like whether it's a series.
Why is keeping accurate records important?
I've had a couple of potential clients who've gotten back to me after one or two years. They finally decided to move forward or life got in the way and the path became clear. Whatever the reason for the delay, I have our initial communications.
Then once a client decides to use my services, I have a freelance agreement that details the process, the payment schedule, and incidentals.
It's important to have everything spelled out so there's no miscommunication or confusion. Transparency matters.
It's also important to have information at your fingertips whenever you need it.
Another part of organization is scheduling.
Up until about a year or so ago, I could take clients on as they came. Then the workload became too heavy.
I currently schedule two-weeks to two-months out.
But no matter how organized you are, you don't have control of the clients.
I've had and have clients who take a week, two weeks or more to get back to me. This is a problem.
As I write the story, I send portions of it to the client to review, so the client can make sure her or his vision is there. I need to wait for their feedback before I can proceed.
Delays throw a monkey wrench in my scheduling and workload.
If I have a client scheduled to start on particular day and a client I'm currently working with takes a lot of time to respond, the current project cuts into my scheduled work.
I end up juggling more clients than I should have to.
I now have a clause in the agreement that there will be a charge for a response delay more than 10 days, including weekends.
FOCUS
Next up is focus.
When you're working on multiple storylines at the same time, you must have focus. It's true for all writing, but it's especially true when you're dealing with a lot of storylines.
To keep all the stories moving along, I work on two or three in one day. Sometimes more if I have a lot of clients at once, like now.
This means I have to quickly switch gears and focus on an entirely different story, and then do it again … and again every day until the story is complete and approved.
Working with therapists, psychologists, and even doctors, I have to be on the mark. And, I give every client the same attention.
Then I may get an email from a client whose story I'm not working on that day. I have to switch to yet another gear.
If I weren't able to focus on what I was doing at the moment, I'd never be able to handle multiple clients.
FLEXIBILITY
This goes hand in hand with focus.
As you may need to drop one story and focus on another then pick up where you left off and move forward, you need to be flexible.
The Cambridge Dictionary defines flexible as being able to "change or be changed easily according to the situation" and being "able to bend without breaking."
I can be in the middle of writing a children's chapter book or middle grade and need to adjust my thinking to work on a picture book. This has to be done without losing a beat and without getting overwhelmed.
Keep in mind that each genre in the children's arena is different. Words, situations, ages, sentence length, and so on are different. To write in multiple genres within the same day, you definitely need to be flexible.
So, these are three of the most important elements needed to be a successful children's ghostwriter.
If you're thinking of getting into ghostwriting children's books, keep in mind that you'll need organization skills, focus, and flexibility to make it work.


Let me take a look at your notes, outline, or draft. I'm a working children's ghostwriter and rewriter/editor. I can turn your story into a book that you'll be proud to be author of.
Send me an email at: kcioffiventrice@gmail.com (please put Children's Ghostwriter in the Subject line). Or, you can give me a call at 834—347—6700
Let's get your story in publishable shape today!


10 Hot Tips for Writing a Good Children's Story

5 Top Tips to Boost Your Writing Skills
Your Children's Fiction Manuscript and a Ghostwriter