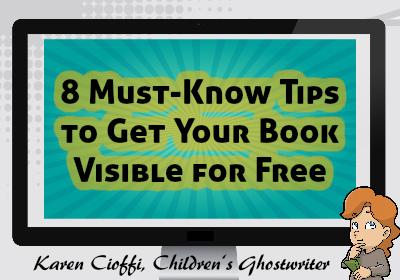 Are you thinking about writing a children's book? Or, maybe you have one published already.
Well, unless you've written a book for 'your eyes only' or maybe your family's, you'll want to make your book visible. You'll want as many people as possible to see what you've written.
This is especially true if you want to sell any of your books. You'll want to actively generate visibility.
So, how do you do this?
Promotion, promotion, promotion…
Promoting your book is the only way to create visibility. And, as many have limited funds and can't afford to pay a publicist or marketer, you need to look at strategies that are affordable or free.
In addition to the very basic strategies of creating a marketing plan which should include the book's cover, how you'll self-publish, and where your book will be sold, there are at least eight book marketing strategies that are free and sure to help create visibility for you and your author platform.
These tips are just as important if you're traditionally publishing.
Eight FREE Strategies to Help Create and Increase Your Visibility
Before your book is even published, create an author website.
I realize a number of new authors don't want to be bothered with a website, especially if writing books isn't something you intend to continue. But it does make a difference. It makes you look professional and it's the place you will lead potential buyers to.
Let people know what your book is about. Maybe put tidbits from the book or books. Write about your writing, publishing, and book marketing process and experiences.
Preferably you will want to post to your site regularly even if it's just once a month. You want it to be active for the search engines and for those who visit.
For more on why you need an author website you can read:
The Author Website – Do You Really Need One?
2. Create your own social media campaign.
This is where your website comes in handy. Post about your book and share your posts to your social media networks.
If you absolutely don't want a website, at least post to your social media networks about your book.
Tip: If you use social media to promote your book, don't forget to share other users' content. Social media is about engaging others and making connections.
In addition to this, it's a good idea to provide some useful information to users.
For example, my middle grade fantasy, Walking Through Walls, is based on an ancient Chinese tale. If I were to use social media just for promotion of my book, I'd post about things that relate to the book – maybe about dragons or the ancient Chinese culture of the time period of the book.
It's about giving and engaging, not just promoting the book
Numbers 3-8 are tips for after your book is published.
3. Go to your local library and give the librarian a copy. Ask if she will carry your book. You can also ask if you can give a workshop or presentation on writing and/or on getting a book published.
4. Contact your local newspapers and ask if they will do a feature on you. Local papers look for local news. Having an author in the neighborhood is news. When my book, Day's End Lullaby, became available, my local paper did an article on the book and on me. It was great exposure.
5. Join groups and forums that focus in the area you write. Social networking is a wonderful way to increase visibility. There are also many marketing groups you can join to increase your book marketing knowledge.
6. Post reviews of books you've read on sites such as Amazon, Goodreads, LibraryThing, and Shelfari.
This is another useful marketing tool that will increase your visibility and build your author platform.
7. Submit your book to reviewers. This is a great marketing tool. Having good reviews to post on your site, and sites such as Amazon, is an important aspect to selling books, and selling books is what book marketing is all about.
People are influenced by the recommendations of others.
There are also sites like The New Book Review to post your reviews to. Just read the guidelines.
Get your friends and family involved too – ask them to read your book and post reviews to the above sites.
Be careful with Amazon though. Sometimes they won't allow the review if you've posted to a number of other 'review' sites. And, sometimes they may stop a review if the reviewer didn't buy the book.
Ask the reviewer to include a simple note at the end of the review explaining that s/he received a free book and the review is completely impartial.
You might also keep up with Amazon's guidelines.
8. Create a signature for your emails. This signature is another means of allowing your platform to take root and create visibility for your book. Include your website's URL, the name of your book/s, and maybe the sales page link.
You might also include your primary social media tag or URL to help build your network.
Use these tips and get started making your book visible today.

Whether you need help with ghostwriting or rewriting, or coaching, let me take a look at your children's story. Just send me an email at: kcioffiventrice@gmail.com. Please put "Children's Writing" in the Subject box. Or, give me a call at 347—834—6700
Let's get your idea off the launch pad or your outline into a publishable story today!
Or, if you'd rather give it a shot and do-it-yourself, check out my book, HOW TO WRITE A CHILDREN'S FICTION BOOK.
MORE ON WRITING FOR CHILDREN
Self-Publishing: 3 Perks and 4 Warnings
What is an Author Platform – How Do You Build It?
Small Home-Grown Book Publishers – Good or Bad?