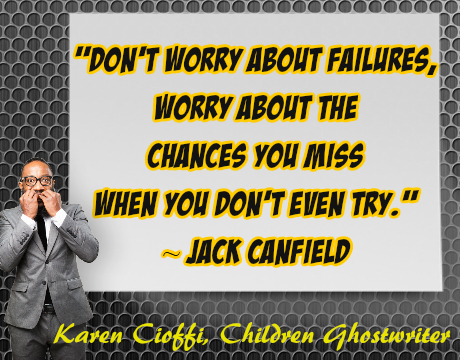 "Don't worry about failures; worry about the chances you miss when you don't even try."
Jack Canfield had a dream. He and co-author Mark Victor Hansen, both motivational speakers, compiled true inspirational stories from people in their audiences. They put these stories in a manuscript, called it Chicken Soup for the Soul, and sent it out to publishers.
They were rejected 144 times before a small publisher gave them a contract.
Imagine if they stopped after 10, 40, 80, 120 rejections.
Imagine if they let their failures dictate their lives.
They knew the true failure would be to not keep trying.
Even after they got a publishing contract, they marketed and marketed and marketed. They not only didn't let failure stop them, they actively make their dream come true.
So, whether you're a writer, an author, a marketer, or other, take actions steps, even if they're small ones . . . and persevere.


Let me take a look at your notes, outline, or draft. I'm a working children's ghostwriter and rewriter. I can turn your story into a book that you'll be proud to be author of.
Shoot me an email at: kcioffiventrice@gmail.com (please put Children's Ghostwriter in the Subject line). Or, you can give me a call at 834—347—6700.
Let's get your story in publishable shape today!
MORE ON WRITING FOR CHILDREN
Create a Believable Protagonist with Realistic Characteristics
Keep Your Writing Goals Front and Center
Writers – 4 Power Tips to Breaking a Bad Habit