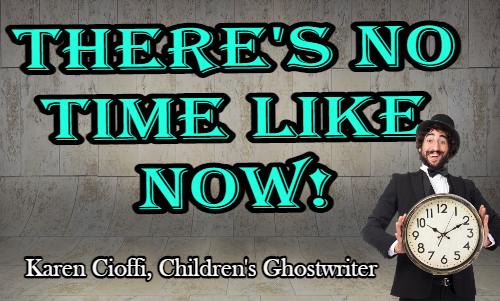 There are so many 'time' quotes. One that comes to mind is:
"No such thing as spare time.
No such thing as free time.
No such thing as down time.
All you got is time.
Go."
~ Henry Rollins
Another one is:
"We all have time to spend or waste, and it is our decision what to do with it. But, once passed, it's gone forever."
~ Bruce Lee
And a final one I love is:
"One thing you can't recycle is wasted time."
~ Unknown
I thought this month is the perfect time to talk about … time.
It seems no matter what time of year it is, most of us reflect on the things we've done and the things we haven't done.
I always think about my own children's stories … the ones I've had on the back burner because I've been too busy ghostwriting for others. When I'm not as busy, I try to get a couple of pages done. But it's always on my mind.
So, if you've been thinking about being the author of a children's book, but don't know how to write, or don't have the time, or just don't want to put the effort into it, look into having it ghostwritten.
Take that to-do off your list. Get your children's story started now.


Let me take a look at your notes, outline, or draft. I'm a working children's ghostwriter and rewriter/editor. I can turn your story into a book that you'll be proud to be author of.
Shoot me an email at: kcioffiventrice@gmail.com (please put Children's Ghostwriter in the Subject line). Or, you can give me a call at 834—347—6700
Let's get your story in publishable shape today!
Or, if you'd rather give it a shot and do-it-yourself, check out my book, HOW TO WRITE A CHILDREN'S FICTION BOOK.


Be a Successful Writer Even if You Don't Think You Have Enough Time
Traditional Publishing – Keep Submitting