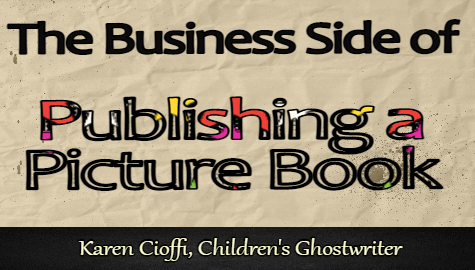 In a children's picture book workshop, the editor (from Scholastic) delved into why editors are so choosy when finding their next project.
'Children's books' is a business. And like any other business, publishing houses think profit and loss. The editors are very aware of this and their reputation depends on them finding stories that will sell.
The editor conducting the workshop, Natalia Remis, was very upfront about what goes on behind the scenes and what takes place once she likes a manuscript.
Editors can't afford to step out on a limb. And, even if an editor wants to, there are hoops to jump through to actually get a story acquired.
The first thing editors need to look at is the story's appeal to the mass market.
Picture books need to sell to a wide market, to the mass market. This means they need to sell to the majority of people.
Publishing houses are thinking of schools, Target, and other large outlets.
A small niche story won't cut it with the big companies. They want broad appeal.
Next, editors actually have to fight to get their books acquired.
Editors want their books to be acquired and to get the attention.
The more profitable books an editor takes on, the more respected she will be as an editor. It's a boost to her reputation.
If an editor likes a picture book, she has to go over a list of considerations:
1. Is the book right for the publishing house: Does it have enough commercial appeal and kid appeal? Does it have the right hook for Barnes and Noble and the mass market?
2. Does it have enough institutional appeal for awards? It's always a plus if a book wins awards.
3. Is the book from a known author, possibly one from another publishing house?
4. Does the editor want to spend the next two years working on this particular book? Publishing a picture book is a LONG process. The editor needs to stay motivated and engaged throughout the process.
If at this point, the editor decides it's worth moving forward with a book, it needs to be approved by the Acquisitions Committee.
This committee has all the top marketing people in it and the editor has to:
– PROVE that they'll make their investment back in the FIRST YEAR.
– Prove that there is a market for this particular book.
– Show that it will be a valuable product for the publishing house.
Choosing a book, seeing that 'something' in it is a very personal thing. The editor needs to see and feel 'it' in order to be willing to do battle for the book.
Editors fight hard to get a book acquired and published.
So, if you're asked to make non-contractual revisions, jump at the opportunity.
This means the editor sees potential in the story, but it needs to be in its best shape possible to appeal to the acquisitions committee and get approval.
An editor can't take a chance on a new author unless they see something special. And, it's that 'something' that the editor needs to convince the acquisitions committee of. The editor's reputation is on the line.
It was an enlightening workshop.
I had no idea how difficult it is for an editor in a large publishing house. It's now easier to understand why the submissions process is like it is. And, why it's so difficult to get a contract with the large houses if you're a new author.
A BIG thank you to Natalia Remis for an information packed workshop.
I hope this information on editors and picture books has been helpful.
To find out what editors are looking for in picture books, check out last week's post:
Picture Books – What Grabs an Editor?

Being a writer, like being any kind of artist who creates something from nothing, is an amazing ability. It's almost like magic. And, you are in control. You decide what to create. The only limit you have is the cap on your imagination.
Check out my 250+ page ebook (or paperback) that gives you all the basics of HOW TO WRITE A CHILDREN'S FICTION BOOK. It's newly revised and includes information on finding a publisher or agent, and marketing your books.