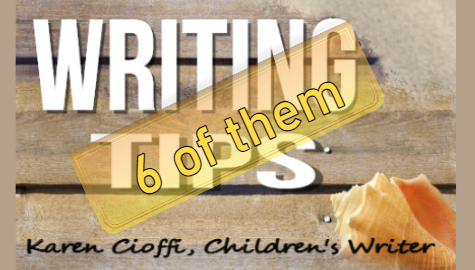 While there are a number of writing tips and processes, below are six of the most important for new authors.

1. Stop. Learn. Jump.

I see it much too often. Authors jump into writing and publishing a book without knowing a thing about writing. 

If you STOP and think about it, anything a person wants to accomplish needs a foundation and building materials to accomplish it.

Want to play the piano?

Guess what. You need to learn how to play.

Want to become an electrician or plumber?

Guess what. You need to learn how to do it.

Want to be in finance or become a nurse, a doctor? 

Again… you need to learn how to do it.

Writing is a skill; it's a profession just like any other. 

This is especially true when writing for children. There are many additional guidelines to follow in the children's writing arena.

This process involves spelling, writing mechanics, grammar, and so on. These are the foundation of good writing.

So, stop and think about what you want to do. Then take the time and effort, and if needed, spend the money to learn how to write. The next step is to jump in and write your outline or first draft.

2. Decide how you want to write.

I'm a pantser, usually. This means I fly by the seat of my pants. I jump in and start my story without an outline. I have an idea, then let the story and characters take me on the journey.

Now, this isn't for everyone. And if you're writing a novel, it's probably best to have some kind of outline to guide you from point A to point B.

While I jump in with picture books and chapter books, I do use an outline for middle-grade stories. 

When you're writing 30,000 to 100,000+ words, there are so many things to remember. It's not wise to leave the details to chance; it will lead to mistakes.

There's no right or wrong way to write in regard to outlining or flying by the seat of your pants. Just use whichever process you're comfortable with.

3. It's always a good idea to use character sheets (cards).

While character sheets are a useful tool, if you're writing a children's picture book of under 800 words, you shouldn't need them. But beyond that, it'd be wise to create one for each character in your story.

According to Reference.com:

"The term 'character development' can be used in literary contexts to refer to the way in which a written character is described and fleshed out." (1)

Creating your character is the process of adding factors like personality, family and friends, appearance, and the other elements that make your character believable and unique. Even your character's name matters.

Character sheets help you keep all the details intact. If you forget something about a character, just check the sheet.

And if you create a new quality to the character, add it to the sheet.

4. Pause before acting on information you get online.

The internet lets everyone and anyone offer writing advice. Some of it is excellent, but some not so much.

Keep in mind that someone just starting out on the writing path may decide to give advice on her blog just to keep an active blog.

Be cautious and know who is offering the advice. It's always best to take advice from an experienced writer with a track record.

5. Revise. Edit. Proof.

Revising, editing, and proofing is a must, but after you actually write the first draft. Let the first draft just flow – get the words down. 

Once you have the first draft, it's time to revise. 

Revision is the major process in writing. It's the fine-tuning of the overall story. This process is where you look at the story structurally and logically. It's making sure all the elements of a good story are there. 

Once you revise the story and it's where it should be, it's on to editing.

Editing deals with sentence structure. It makes sure each sentence is structurally sound and understandable.

Finally, it's on to proofing. 

This is where you get out your magnifying glass to check each sentence, line by line. The job here is to find typos, misspelled words, beginnings of sentences and paragraphs, and so on.

6. Get your work critiqued and accept feedback graciously.

If you're a smart writer, you will have a critique group or at least one qualified person to review your work. Or you may hire a professional to review or critique it.

It's just about impossible to see all the mistakes you might have made. Basically, your brain knows what you wrote, and that's what it'll see. 

In an article at Wired.com, psychologist Tom Stafford is quoted saying:

"The reason we don't see our own typos is because what we see on the screen is competing with the version that exists in our heads." (2)

This is why it's a good idea for a critique group or professional writer to go over your manuscript.

While it's important to have your manuscript critiqued, it's also important to accept any feedback graciously. 

This isn't to say you need to incorporate everything you're told into your story, but you should take the feedback to heart. If it makes sense, use it. If it doesn't make sense, don't use it. You know what your story is about better than anyone else.

(1) https://www.reference.com/world-view/definition-character-development-1a0cb87e27929d2d

(2) https://www.wired.com/2014/08/wuwt-typos/



I'm a working children's ghostwriter, rewriter, and coach. I can help turn your story into a book you'll be proud to be author of.

Contact me at: kcioffiventrice@gmail.com. Or, you can give me a call at 834---347---6700

Or, if you'd rather do-it-yourself, check out my book, How to Write a Children's Fiction Book.