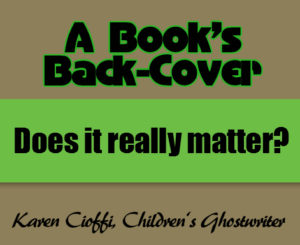 Being an author is no longer just about writing. Now, you have to become savvy about marketing your book.
An important element of book marketing is the back cover. And, making it powerful does really matter.
In fact, aside from the front cover, the back cover is what will motivate the reader to buy your book. Anyone who picks up your book will look at and hopefully read the back cover after looking at the front cover.
A book's back cover will usually have a brief, grabbing description (back cover copy) of the book. It can also have an illustration or a picture of the author with the copy. Some back covers have a brief bio of the author. Unless you're well-known, you might want to go with the book's copy rather than your bio.
You'll have up to 200 words to fit comfortably on the back cover without it looking crowded. You have to make those words count.
Here are examples of back cover copy on some children's books:
Chrysanthemum
Picture book
Chrysanthemum thinks her name is absolutely perfect, until her first day of school. "You're named after a flower!" teases Victoria. "Let's smell her," says Jo. Chrysanthemum wilts. What will it take to make her blossom again?
Ivy & Bean – What's the Big Idea?
Chapter book
It's Science Fair time at Emerson School and the kids in Ms. Aruba-Tate's class are supposed to find a way to cool down the earth. Some kids are making litterbug-eating robots. Some kids are hold their breath for a very, very long time. But what should Ivy and Bean do? Something with ropes? Something with explosions? Something with ice cubes? Or maybe something . . . different.
The Talented Clementine
Chapter book
When it comes to tackling third grade, Clementine is at the top of her game–okay, so maybe not all the time. After her teacher announces that the third and fourth graders will be putting on a talent show, Clementine panics. She doesn't sing or dance or play an instrument. She can't even hop with finesse. And as if she didn't feel bad enough, her perfect best friend, Margaret, has so many talents, she has to alphabetize them to keep them straight.
As the night of the big "Talent-palooza" draws closer, Clementine is desperate for an act, any act. But the unexpected talent she demonstrates at the show surprises everyone—most of all herself.
Crispin – The Cross of Lead
Middle grade book
I kept asking myself if I felt different, if I was different. The answer was always yes. I was no longer nothing . . .
How odd, I thought: it had taken my mother's death, Father Quinel's murder, and the desire of others to kill me to claim a life of my own.
---
Back covers can also just have an illustration, no text, but I don't advise this. You want to motivate the reader to take action with effective copy (a brief description).
Then there are the back covers that have blurbs from influential sources, such as Publisher's Weekly, the New York Times, and well-known people. If you have these types of blurbs, you'll definitely want to use them.
Some back covers have reviews of the book from influential people. Some have a combination of elements.
Be Careful
Just be careful of how and what you put on your back cover and how you organize it. The back cover is the second most important book marketing tool on the book. The most important is the cover illustration/design. You'd think it'd be the story itself. Ha.
To see more back cover copy and get some ideas, go to the library to see how major publishers create a back cover in your genre.


5 Must-Know Tips on Writing a Powerful Thriller (and most other fiction stories)
Characters or Story – Which Comes First?
How Do You Make a Good Story Worthy of Getting Past the Gatekeeper?

Let me take a look at it. I'm a working children's ghostwriter, rewriter, and editor. I can turn your story into a publishable book – one you'll be proud of.
Shoot me an email at: kcioffiventrice@gmail.com (please put Children's Writing Help in the Subject line). Or, you can give me a call at 834—347—6700