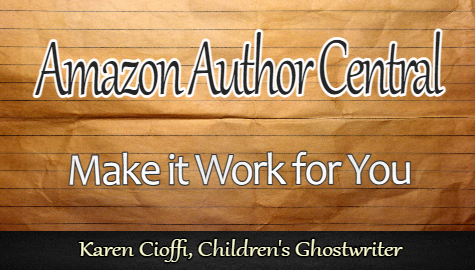 Yep. As an author, you need to promote your books. If you don't, you won't sell any. It's all about creating visibility . . . after you've created a quality book.
A great place to generate visibility and SELL your books is Amazon. And, it's probably one of the most underutilized pieces of online real estate that authors should be taking advantage of.
According to Statista.com, Amazon was the most popular online store in the United States in 2016.
And, according to a 2014 article in Forbes on Amazon vs. Book Publishers, Amazon's annual revenue from book sales was $5.25 billion. And, that was back in 2014. Amazon sells a lot of books, so authors should have an Amazon author page and make the most of their book page.
But, how do you make the best use of your Amazon real estate? Your book page and Author Central page?
It's all in the details for both pages.
– First thing is to have a professional book cover. This is probably the first thing a potential reader looks at.
– Next you need a killer description and be sure to make it keyword effective.
– Along with this, be sure to add your top reviews to the Editorial Reviews section.
– Then there's your author bio. Make sure the reader knows what you're about and what you can offer.
From the Author page, you can add lots of tidbits to enhance the page, like freebies, upcoming events, and more.
And, there are also things like keywords and categories that you should use to help make your book searchable.
The point is to take advantage of this great marketing tool. Amazon is powerful. You need to use every feature it offers to make your book visible to its customers and motivate them to buy it!
For a detailed article on how to boost your Amazon book page and author page, on how to sell more books, check out this article at Author Marketing Experts:
Sell More Books with a Kickass Amazon Book Page



Picture Books – Story or Illustrations, Which Comes First?
Writing – Showing vs. Telling
Tips to Overcome Writing Procrastination


Let me take a look at it. I'm a working children's ghostwriter, rewriter, and editor. I can turn your story into a publishable book that you'll be proud to be author of.
Shoot me an email at: kcioffiventrice@gmail.com (please put Children's Writing Help in the Subject line). Or, you can give me a call at 834—347—6700