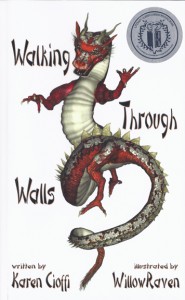 Walking Through Walls was honored with the Children's Literary Classics Silver Award.
Set in 16th century China, this middle-grade fantasy adventure is about 12-year-old Wang. Not liking to work, it really bugs him that he has to help his father tend the wheat fields. Thinking he can bypass work and struggle (and become rich and famous), Wang sets off on an amazing adventure to find the Eternals, a legendary group of mystics who can perform magic!
The story is based on an ancient Chinese tale.
You can find out how the story came about at:
Writing a Fiction Story – Walking Through Walls Backstory
As book marketing is an essential element of an author's life, here's a book trailer I created for my book. I'd love to know what you think of it in the comments!
If you'd like to order your own copy of Walking Through Walls, please go to:
Barnes & Noble: https://www.barnesandnoble.com/w/walking-through-walls-karen-cioffi/1104289817
4RV Publishing (the publisher): http://www.4rvpublishingcatalog.com/calderwood—cioffi.php
I removed the Amazon link – find out why you should buy directly from book publishers:
As this site is for those wanting to become a children's author and those wanting to learn about writing for children, I think it's important you know that supporting book publishers is essential.
Distributors like Amazon may be convenient, but buying directly from the publisher puts more money in the publisher's pocket and in the author's pocket. This MATTERS!
And with Amazon allowing third-party sellers, you don't know who you're buying a book from or where they got that book. Some of them sell for well under retail and others sell for a crazy amount above retail.
Why not support book publisher and authors and buy directly from the publishers. The cost is about the same, so please support the book industry!


Whether you need rewriting or ghostwriting, let me take a look at your story. Just send me an email at: kcioffiventrice@gmail.com. Please put "Children's Writing" in the Subject box.
Or, give me a call at 347—834—6700
Let's get your book in publishable shape today!