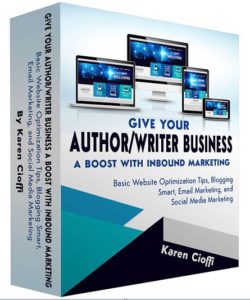 As a home business, author, or writer, it's a certain bet that you have something to sell. It may be your book, a product, a service, your skills, or your experience and knowledge. In order to sell what you're offering, you need to get traffic to you and your website.
This is done through inbound marketing which is the process of creating visibility, website traffic, and authority through content marketing (writing blog posts, articles, ebooks, etc.), email marketing, and social media marketing. It's a process that funnels visitors back to your website.
This 4-week e-class will take you from square one, your website and blogging, right on through using email marketing and social media marketing. And, it has a great bonus to further help you on your marketing journey (it's a surprise though).
The class also provides a number of over-the-shoulder videos to further aide in understanding and reinforce the basics. This format allows the presenter to share her screen, so students can see how each step is done. And, it's interactive – lots of hand-holding and guidance.
CHECK OUT ALL THIS CLASS HAS TO OFFER:
GIVE YOUR AUTHOR/WRITER BUSINESS A BOOST WITH INBOUND MARKETING